Water Damage Restoration Services
Over 50,000 Homeowners Helped
What is SS Water Restoration
At SS Water Restoration, we feel immense pride in having highly experienced and certified professionals that help people to restore their affected properties by providing Water Damage Restoration, Mold Damage Remediation, and Sewage Cleaning services.
With our 24/7 emergency service and less than 60 minutes response time in Denton and Collin counties, we are committed to providing reliable assistance to our customers. We are licensed and insured under the IICRC, which builds a bond of trust with our clients.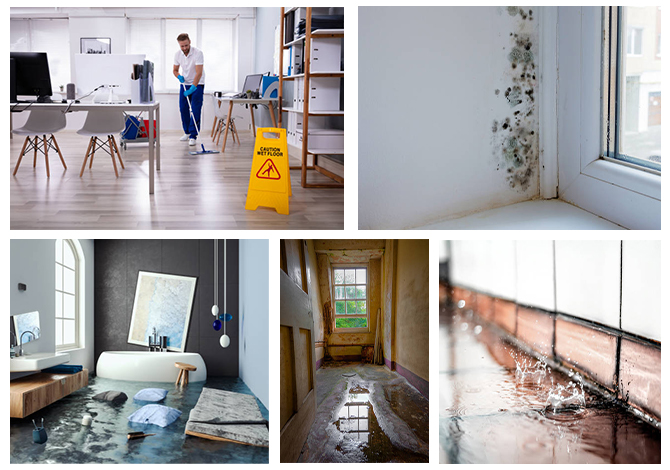 SS Water Restoration Services

Water Damage Restoration
We have expertise in restoring properties affected by water damage, including flood cleanup, water extraction, and odor removal. Our team works efficiently to minimize your stress, completing the job efficiently and responsibly properly.

Mold Remediation
Mold concerns homeowners due to structural damage, health risks, odors, and discomfort. Our experts identify causes and create a comprehensive plan for effective mold removal. Valuable insights ensure long-term prevention.

Sewage Cleaning
Sewage problems, including leaks, overflow, and backups on a property, can instill worry and fear in property owners. It is essential to have professionals with the latest equipment handle this issue, and we have the necessary experience to do so effectively.
At SS Water Restoration, our primary focus is ensuring customer satisfaction. Our exceptional features set us apart from other brands in the industry.

24/7 Availability
We understand that emergencies can happen at any time, whether it's a leak or any water damage. Our team is available 24/7 to provide quick assistance so you can have peace of mind during an emergency. As time goes by, the damage continues to increase. In Denton and Collin counties, we respond within 60 minutes to effectively manage these situations.
Insurance Billing
If you choose SS Water Restoration, you can experience a hassle-free process that will ease your burden. Our team of experts assists you with claiming restoration insurance by communicating the complexities on your behalf. We record all the necessary documents for the insurance claim accurately.

IICRC Certified
SS Water Restoration has gained the market's trust through its highly qualified and professional team, with over five years of experience. SS Water Restoration has earned the trust of the Institute of Inspection Cleaning and Restoration Certification IICRC.
Advance Tools
Our team is dedicated to delivering excellent support for water damage restoration, mold damage remediation, and sewage cleanup services. We use state-of-the-art tools to manage water damage, mold damage, and sewage cleanup.
Restoring What Matters Most, With Precision & Care
Jennifer Smith
Michael and his team handled our insurance claim with all the necessary documents and efficiently resolved our water issues at home. Johnson, in particular, was very amusing and energetic throughout the process. Thank you once again for your professional and fruitful service.
John Lewis
I experienced mold damage in my house, which was concerning. My son, Alan, hired SS Water Restoration Company for mold remediation. Their team had the latest tools and completed the work quickly. Additionally, their behavior and support were exceptional. The budget was also reasonable for me. I was delighted with their service.
Mr. John Anderson
My wife, Linda, and I decided to restore our home's entire water piping system due to multiple leakages caused by years of neglect. We received a reasonable quote from SS Water Restoration Company for our budget. Their exceptional services and support were present throughout the entire process. We highly recommend their services!
Jessica Thompson
A sewage pipe leaked and caused an unpleasant odor throughout our home. I reached out to SS Water Restoration company for help and was incredibly impressed by Robin's professional sewage cleanup process. I want to express my gratitude to this company for their exceptional service.
Emily Johnson
I had an emergency when my water pipe started leaking and caused a mess in my house. I needed someone to fix it right away. My friend Nillofer recommended SS Water Restoration Company, and I was impressed by their prompt and professional support team. Within 25 minutes, their team arrived at my home and quickly analyzed the root cause of the problem. They fixed it in just 10 minutes. I am delighted with their services and will recommend them to anyone in need.
Need Emergency Assistance?
Frequently Asked Questions
How long does it take for water damage to occur?
Water damage can occur immediately upon exposure to water. However, the severity and extent of the damage may vary depending on the source of water, the materials affected, and the duration of exposure.
How long does it take for mold to grow after water damage?
Mold can begin to grow within 24 to 48 hours after water damage occurs. Mold spores are present in the air, and when they come into contact with moisture and suitable organic materials, they can start growing and spreading.
How long does it take for water damage to dry out?
The drying time for water damage depends on various factors, including the extent of the damage, the materials affected, and the drying methods used. Generally, it can take anywhere from a few days to several weeks for water damage to fully dry out.
How long does it take for water damage to cause health issues?
Water damage can potentially lead to health issues due to mold growth and the presence of bacteria or contaminants in the water. The timeframe for health issues to arise can vary depending on the individual's sensitivity and exposure level. It is advisable to address water damage promptly and ensure thorough cleanup and restoration to prevent health risks.
Get a Quote in Under 24 Hrs
Request An Online Quote
Are you dealing with water or mold damage at home? Complete the quote form for a speedy reply from a seasoned professional. Tailor your budget to your needs. We've got everything under control.