Water Damage Restoration Services Prosper, Texas
Prosper Water Damage Repair Services
In cases of water damage to a home or business, time is of great essence. The longer water lingers, the more extensive the property damage becomes. Therefore, swift extraction and dehumidification are crucial in mitigating these effects. SS Water Restoration, with its certified and skilled professionals, provides rapid Water Damage Repair Services. Operating 24/7 in Prosper, TX, we boast a response time of under 60 minutes. Our pride lies in the recognition by the Institute of Inspection, Cleaning, and Restoration Certification (IICRC). If you detect water damage, reach out to us at (469)-737-0296, and our dedicated team will immediately attend to your needs.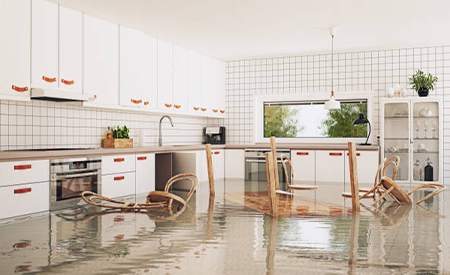 Water Damage Restoration in Prosper, TX
At SS Water Restoration, our foremost goal is to prioritize the safety and preservation of our clients' properties. Our seasoned team possesses the expertise to efficiently dry affected areas, regardless of the materials involved. We provide a comprehensive range of water mitigation and restoration services, including, but not limited to, the following:
Insurance Assistance & More
Prevention Recommendation
Tools We Use For Home Water Restoration in Prosper, TX
In our water mitigation company in Prosper, TX, we employ cutting-edge tools and equipment to effectively address water damage. Our collection of advanced tools ensures a thorough and rapid restoration process to safeguard your property from further harm.

Air Movers
Air movers, also known as fans or blowers, play a crucial role in water damage restoration by enhancing moisture evaporation. By creating focused airflow, they promote efficient circulation, expediting the drying process. This rapid evaporation helps prevent mold and mildew growth, making air movers essential equipment for effective water damage cleanup and mitigation. Their strategic use in directing airflow to affected areas contributes to a faster and more thorough restoration process.

Humidity Extractors
Humidity extractors are essential in the water damage restoration process as they play a pivotal role in drying wet surfaces and reducing humidity levels. By extracting excess moisture from the air, these devices contribute to preventing further damage, including mold growth and structural issues. The efficient removal of moisture not only accelerates the drying time but also safeguards the affected environment from potential long-term consequences associated with prolonged exposure to damp conditions. Utilizing humidity extractors is a proactive measure to ensure a thorough and effective restoration process.

Water Extractors
Water extractors serve as potent vacuum pumps designed for efficiently removing standing water. Available in both truck-mounted and portable units, these extractors play a crucial role in extracting water from various surfaces, including floors, furniture, and carpets. The truck-mounted variants offer enhanced suction power, making them particularly effective for comprehensive water extraction tasks. On the other hand, portable units provide flexibility and maneuverability, making them suitable for diverse settings where a truck-mounted option may be impractical. These devices are indispensable in water damage restoration, ensuring prompt removal of excess water to prevent further damage and facilitate the drying process.
Indications of Water Damage in Prosper, TX
What signs to look for to identify water damage in your home? Based on our client's experiences and our expertise, below are a few signs that can help you identify the Water Damage in your home.
Sagging or Stained Ceilings
Deterioration of Building Materials
What Sets Us Apart as Best Water Damage Restoration Company in Prosper, Tx
SS Water Restoration stands out as the leading water damage mitigation company due to its commitment to efficient and thorough restoration services. With a team of certified professionals, SS Water Restoration excels in utilizing specialized equipment and techniques for water extraction, flood cleanup, and odor removal. The company distinguishes itself by prioritizing rapid response times to ensure assistance within 60 minutes in Prosper, TX. Moreover, our expertise extends beyond mitigation, we also offer comprehensive restoration processes, including mold remediation and sewage cleaning. This dedication to excellence and a holistic approach makes us a trusted choice for unmatched water damage restoration services.
Why Choose Us for Water Damage Restoration Services
Fast and Reliable Services
Our team is dedicated to providing prompt and efficient water damage restoration services. We understand the urgency of the situation and strive to deliver quick solutions to minimize further damage.
24/7 Availability
Emergencies don't wait for regular business hours. We are available around the clock, 24/7, ensuring that you can reach out to us whenever you need assistance with water damage issues, even during weekends or holidays.
Free Estimates
Transparency is important factor in any business and that's why we offer free estimates for our water damage restoration services. This allows you to understand the scope of the work and associated costs upfront, helping you make informed decisions.
Trained and Experienced Technicians
Our team consists of skilled professionals with extensive training and experience in water damage restoration. You can trust us to handle the restoration process efficiently as we employ industry-best practices and the latest techniques.
Contact Us for Home Water Restoration in Prosper, TX 
If you're facing water damage issues in your home in Prosper, Texas, SS Water Restoration is here to help. Our experts specialize in water damage remediation and are dedicated to providing top-notch services at very affordable rates. Therefore, don't let water damage compromise your home's safety & Contact SS Water Restoration now and restore your home to its optimal condition. Your peace of mind is just a call away.
Restoring What Matters Most, With Precision & Care
Jennifer Smith
Michael and his team handled our insurance claim with all the necessary documents and efficiently resolved our water issues at home. Johnson, in particular, was very amusing and energetic throughout the process. Thank you once again for your professional and fruitful service.
John Lewis
I experienced mold damage in my house, which was concerning. My son, Alan, hired SS Water Restoration Company for mold remediation. Their team had the latest tools and completed the work quickly. Additionally, their behavior and support were exceptional. The budget was also reasonable for me. I was delighted with their service.
Mr. John Anderson
My wife, Linda, and I decided to restore our home's entire water piping system due to multiple leakages caused by years of neglect. We received a reasonable quote from SS Water Restoration Company for our budget. Their exceptional services and support were present throughout the entire process. We highly recommend their services!
Jessica Thompson
A sewage pipe leaked and caused an unpleasant odor throughout our home. I reached out to SS Water Restoration company for help and was incredibly impressed by Robin's professional sewage cleanup process. I want to express my gratitude to this company for their exceptional service.
Emily Johnson
I had an emergency when my water pipe started leaking and caused a mess in my house. I needed someone to fix it right away. My friend Nillofer recommended SS Water Restoration Company, and I was impressed by their prompt and professional support team. Within 25 minutes, their team arrived at my home and quickly analyzed the root cause of the problem. They fixed it in just 10 minutes. I am delighted with their services and will recommend them to anyone in need.
Need Emergency Assistance?
Our Water Damage Restoration Services Areas