Mold Remediation Services Aubrey, Texas
Mold Remediation Aubrey, Tx
If you are noticing symptoms like allergies, respiratory issues, or musty odors, it may indicate a potential mold problem in your home or business. In such a scenario, consider a thorough inspection by a certified company like SS Water Restoration. We specialize in Mold Remediation Services throughout Aubrey, TX, providing 24/7 support led by trained and certified experts. Our process involves a comprehensive analysis and utilizes advanced equipment to restore properties to their original state. Given the rapid spread of mold spores, immediate attention is important once the issue is identified. Save time searching for mold remediation services near you; simply call us at (469) 737-0296 for rapid assistance.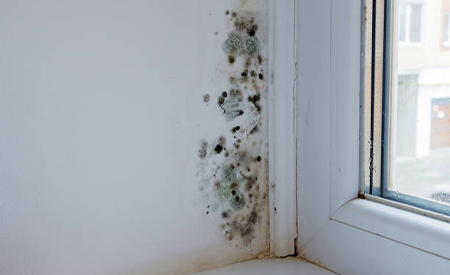 Mold Removal Services in Aubrey, TX
Identifying mold growth behind walls or in furniture necessitates timely removal to prevent property damage and unpleasant odors associated with prolonged exposure. The primary goal of our services is to address and reverse the damage caused by mold. Our approach involves utilizing cutting-edge equipment to remediate mold in accordance with the standards set by the Institute of Inspection Cleaning and Restoration Certification (IICRC). We offer the following Mold Removal services.
Assessment and Inspection
Prevention Recommendation
Typical Location Where Mold Thrives in Aubrey, TX
Mold is commonly present in various areas within homes, but it tends to thrive in environments that have elevated moisture levels.

Attic Mold
This Mold is characterized by condensation between warm air inside the house and cold air outside. Possible causes of attic mold include inadequate ventilation, insufficient insulation, improper bathroom or kitchen exhaust ventilation, leaky plumbing or HVAC systems, and neglected maintenance. It can lead to mild health issues like respiratory issues, allergies, etc. Professional expertise is necessary to address attic mold issues in residential or commercial properties.

Basement Mold
It's primarily found in the basement and can be caused due to Moisture intrusion, High humidity, Poor insulation, Flooding, and Lack of sunlight. The symptoms of Basement Mold are Respiratory problems, skin, and eye irritations. Basements can indeed have a smell that is moldy and musty. However, using mold remediation services can help prevent it from coming back.

Crawl Space Mold
It refers to the presence of Mold in the Crawl Space area of the building. Its presence is due to high humidity levels, inadequate ventilation, and water leaks. A few symptoms can help one to identify it, such as a Musty or earthy odor, Visible mold growth, Increased allergies, or respiratory issues. Dealing with crawlspace mold poses significant challenges due to space limitations, making it crucial to rely on professional experts to handle the task effectively.
Indications of Mold in Aubrey, TX
Manifestations of mold presence present in distinct ways. A prominent sign is the visible growth of mold, forming fuzzy patches or clusters on surfaces like walls, ceilings, or floors. Another notable indicator is the lingering musty odor in the air, reminiscent of dampness and earthiness. Additionally, clues may include water stains, discoloration, or peeling paint, suggesting past or ongoing moisture issues conducive to mold growth. On a health front, allergic reactions such as sneezing, coughing, or itchy eyes may signal exposure to mold spores. Respiratory issues like asthma or bronchitis can exacerbate in environments infested with mold.
Deterioration of Materials
Water Stains or Discoloration
Mold Remediation Services You Can Count On
SS Water Restoration stands out as the preferred option for water damage and property restoration as we provide highly reliable mold remediation services. Our commitment is underscored by the expertise of our skilled and experienced team, ensuring effective and thorough solutions. Available 24/7, we provide round-the-clock assistance, emphasizing prompt and efficient responses to address any water damage or mold-related concerns. Trust in SS Water Restoration for top-quality restoration services.
Qualified and Experienced Team of Experts
At SS Water Restoration, our unparalleled service is backed by a highly qualified and experienced team of experts with years of experience in the field. Our professionals are certified by the IICRC and possess a deep understanding of on-site work and technical knowledge. With a commitment to excellence, our team brings a wealth of experience to every mold remediation project, providing top-notch service and efficient solutions for your peace of mind.
We Are Here to Serve You for Your Mold Remediation Needs 
At SS Water Restoration, we are dedicated to serving you for all your mold restoration needs. Our top-quality water damage restoration services ensure a swift and efficient restoration process for your property. With a skilled team of experts, we specialize in mold removal, sewage cleaning, and comprehensive property damage recovery. Trust SS Water Restoration to bring your property back to its optimal condition, providing expert assistance when you need it most.
Restoring What Matters Most, With Precision & Care
Jennifer Smith
Michael and his team handled our insurance claim with all the necessary documents and efficiently resolved our water issues at home. Johnson, in particular, was very amusing and energetic throughout the process. Thank you once again for your professional and fruitful service.
John Lewis
I experienced mold damage in my house, which was concerning. My son, Alan, hired SS Water Restoration Company for mold remediation. Their team had the latest tools and completed the work quickly. Additionally, their behavior and support were exceptional. The budget was also reasonable for me. I was delighted with their service.
Mr. John Anderson
My wife, Linda, and I decided to restore our home's entire water piping system due to multiple leakages caused by years of neglect. We received a reasonable quote from SS Water Restoration Company for our budget. Their exceptional services and support were present throughout the entire process. We highly recommend their services!
Jessica Thompson
A sewage pipe leaked and caused an unpleasant odor throughout our home. I reached out to SS Water Restoration company for help and was incredibly impressed by Robin's professional sewage cleanup process. I want to express my gratitude to this company for their exceptional service.
Emily Johnson
I had an emergency when my water pipe started leaking and caused a mess in my house. I needed someone to fix it right away. My friend Nillofer recommended SS Water Restoration Company, and I was impressed by their prompt and professional support team. Within 25 minutes, their team arrived at my home and quickly analyzed the root cause of the problem. They fixed it in just 10 minutes. I am delighted with their services and will recommend them to anyone in need.
Need Emergency Assistance?
Our Mold Remediation Services Areas