Water Damage Restoration Services Denton County, Texas
Water Damage Restoration Denton County Tx
At SS Water Restoration, we understand the profound impact that water damage can inflict on your property. Whether arising from a burst pipe, flooding, or any other water-related emergency, our team of certified technicians is poised to deliver prompt and reliable water damage restoration services in Denton County, Texas. With a commitment to swift intervention, we understand the urgency of mitigating water damage to prevent further deterioration. Our comprehensive approach, guided by industry expertise, ensures thorough restoration to bring your property back to its pre-damage condition. Trust SS Water Restoration to be your responsive partner in overcoming the challenges of water-related emergencies in Denton County. Now you don't need to search for Water Damage Restoration Near me, just call at (469) 737-0296.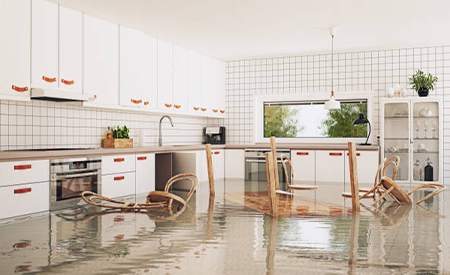 Water Damage Restoration Services in Denton County, TX
At SS Water Restoration, our primary focus is safeguarding our clients' property. Leveraging our seasoned team's expertise, we specialize in effectively drying affected areas, irrespective of the materials involved. Our comprehensive suite of Water Damage restoration services is designed to address a wide array of needs, ensuring thorough and reliable solutions for our clients.
Insurance Assistance & More
Prevention Recommendation
Tools We Use For Home Water Remediation in Denton County, TX
In our water mitigation company in Denton County, TX, we employ cutting-edge tools and equipment to effectively address water damage. Our collection of advanced tools ensures a thorough and rapid restoration process to safeguard your property from further harm.

Air Movers
Air movers, functioning as fans or blowers, play a vital role in accelerating moisture evaporation during the drying process. These devices enhance air circulation, promoting efficient and rapid drying across affected areas. By facilitating increased airflow, air movers significantly contribute to expediting the overall water damage restoration process.

Humidity Extractors
Humidity extractors are essential in the drying process, actively reducing humidity levels and safeguarding wet surfaces. By extracting excess moisture from the air, these devices play a pivotal role in preventing further damage and promoting a swift and thorough drying of affected areas. Their efficient operation is instrumental in maintaining a controlled environment conducive to the restoration of spaces impacted by water damage.

Water Extractors
Water extractors, equipped with powerful vacuum pumps, are crucial tools for removing standing water effectively. Whether in the form of truck-mounted or portable units, these devices excel at extracting water from various surfaces such as floors, furniture, and carpets. Their versatility and robust capabilities make water extractors indispensable in swiftly mitigating water damage by efficiently removing excess water from diverse environments.
Indications of Water Damage in Denton County, TX
What signs to look for to identify water damage in your home? Based on our client's experiences and our expertise, below are a few signs that can help you identify the Water Damage in your home.
Sagging or Stained Ceilings
Deterioration of Building Materials
Why Choose SS Water Restoration for Water Mitigation & Restoration in Denton Tx?
24/7 Emergency Service
We understand that water damage can occur at any time. That's why our team is available 24/7 to respond to emergencies. When you choose SS Water Restoration, you can have peace of mind knowing that help is just a phone call away.
Certified Technicians
Our technicians are highly trained and certified in water damage restoration. They bring a wealth of experience to every project, ensuring that your property is in capable hands.
State-of-the-Art Equipment
We invest in the latest technology and equipment to provide efficient and effective water damage restoration services. Our cutting-edge tools allow us to assess, extract, and restore your property with precision.
SS Water Restoration Advantage in Denton County Area
Quick Response: We understand the urgency of water damage, and our team responds promptly to minimize the impact on your property.
Comprehensive Solutions: From water extraction to structural drying and mold remediation, we offer end-to-end solutions for all your water damage restoration needs.
Customer Satisfaction: Our commitment to customer satisfaction is reflected in our attention to detail, transparent communication, and the quality of our work.
Contact Us for Water Damage Restoration in Denton County Tx
Guard against the impact of water damage on your property; reach out to SS Water Restoration for quick and professional restoration services in Denton County, Texas. Our team is dedicated to efficiently restoring your property to its original condition. Don't let water compromise your property's integrity, trust SS Water Restoration for comprehensive restoration services.
Restoring What Matters Most, With Precision & Care
Jennifer Smith
Michael and his team handled our insurance claim with all the necessary documents and efficiently resolved our water issues at home. Johnson, in particular, was very amusing and energetic throughout the process. Thank you once again for your professional and fruitful service.
John Lewis
I experienced mold damage in my house, which was concerning. My son, Alan, hired SS Water Restoration Company for mold remediation. Their team had the latest tools and completed the work quickly. Additionally, their behavior and support were exceptional. The budget was also reasonable for me. I was delighted with their service.
Mr. John Anderson
My wife, Linda, and I decided to restore our home's entire water piping system due to multiple leakages caused by years of neglect. We received a reasonable quote from SS Water Restoration Company for our budget. Their exceptional services and support were present throughout the entire process. We highly recommend their services!
Jessica Thompson
A sewage pipe leaked and caused an unpleasant odor throughout our home. I reached out to SS Water Restoration company for help and was incredibly impressed by Robin's professional sewage cleanup process. I want to express my gratitude to this company for their exceptional service.
Emily Johnson
I had an emergency when my water pipe started leaking and caused a mess in my house. I needed someone to fix it right away. My friend Nillofer recommended SS Water Restoration Company, and I was impressed by their prompt and professional support team. Within 25 minutes, their team arrived at my home and quickly analyzed the root cause of the problem. They fixed it in just 10 minutes. I am delighted with their services and will recommend them to anyone in need.
Need Emergency Assistance?
Our Water Damage Restoration Services Areas