Water Damage Restoration Services Frisco, TX
Frisco Water Mitigation Company
SS Water Restoration is Frisco's premier destination for Water Damage Restoration Services. At our company, we understand the disruptive impact water damage can have on your property. Whether it's from a burst pipe, flooding, or unexpected leaks, our expert team is here to restore your home or business swiftly and effectively. With a commitment to excellence and advanced equipment, we tackle water damage at its roots to ensure a thorough restoration. Trust us to bring your space back to life, leaving it not just repaired, but revitalized. Call us at (469)-737-0296 whenever you notice the water damage, and our team will be there for you.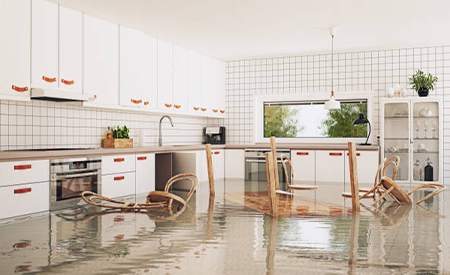 Water Restoration Services Frisco, TX
At SS Water Restoration, our primary goal is to safeguard our clients' properties. Our skilled team excels in drying affected areas, irrespective of the materials involved. We provide a comprehensive array of water damage restoration services, including but not limited to the following:
Insurance Assistance & More
Prevention Recommendation
Tools We Use For Home Water Restoration in Frisco, TX
In our water mitigation company in Frisco, TX, we employ cutting-edge tools and equipment to effectively address water damage. Our collection of advanced tools ensures a thorough and rapid restoration process to safeguard your property from further harm.

Air Movers
Air movers are fans or blowers that are used to increase moisture evaporation. It facilitates air circulation and speeds up the drying process.

Humidity Extractors
They play a crucial role in drying the wet services and lowering the humidity levels. It prevents further damage by removing excess moisture from the air.

Water Extractors
These are the powerful vacuum pumps that are used in the extraction of standing water. These can be truck-mounted or portable units capable of extracting water from floors, furniture, or carpets.
Indications of Water Damage in Frisco, TX
What signs to look for to identify water damage in your home? Based on our client's experiences and our expertise, below are a few signs that can help you identify the Water Damage in your home.
Sagging or Stained Ceilings
Deterioration of Building Materials
Emergency Water Mitigation and Restoration Services Frisco, Tx
Experience the unparalleled efficiency of our rapid response for water mitigation and restoration at SS Water Restoration. When water damage strikes, time is of the essence. Our dedicated team ensures a swift response, with our professionals on-site in under 60 minutes to assess the situation and initiate the restoration process. This rapid intervention minimizes potential damage, mitigates risks, and sets the foundation for a thorough restoration. Trust SS Water Restoration for a prompt and effective solution to your water damage concerns.
Affordable Services with Experienced Staff
At SS Water Restoration, we pride ourselves on delivering affordable services without compromising on quality. Our commitment to excellence is upheld by an experienced and skilled staff who bring their expertise to every project. Despite our competitive pricing, we prioritize the highest standards in water damage restoration and mitigation. Trust our experienced team to provide cost-effective solutions tailored to your needs, ensuring your property is restored efficiently without breaking the bank. Don't hesitate to avail our services, where affordability meets exceptional service.
Reach Out to Us for Top-Notch Water Damage Restoration Services in Frisco, TX
When facing water damage, reach out to us for top-notch restoration services in Frisco Tx. Our skilled team is dedicated to delivering unmatched quality and instant response to ensure your property is restored to its optimal condition. With advanced techniques and a commitment to excellence, we tackle water damage comprehensively, addressing both visible and underlying issues. Your satisfaction and the restoration of your space are our top priorities. Contact SS Water Restoration for a smooth and effective water damage restoration experience.
Restoring What Matters Most, With Precision & Care
Jennifer Smith
Michael and his team handled our insurance claim with all the necessary documents and efficiently resolved our water issues at home. Johnson, in particular, was very amusing and energetic throughout the process. Thank you once again for your professional and fruitful service.
John Lewis
I experienced mold damage in my house, which was concerning. My son, Alan, hired SS Water Restoration Company for mold remediation. Their team had the latest tools and completed the work quickly. Additionally, their behavior and support were exceptional. The budget was also reasonable for me. I was delighted with their service.
Mr. John Anderson
My wife, Linda, and I decided to restore our home's entire water piping system due to multiple leakages caused by years of neglect. We received a reasonable quote from SS Water Restoration Company for our budget. Their exceptional services and support were present throughout the entire process. We highly recommend their services!
Jessica Thompson
A sewage pipe leaked and caused an unpleasant odor throughout our home. I reached out to SS Water Restoration company for help and was incredibly impressed by Robin's professional sewage cleanup process. I want to express my gratitude to this company for their exceptional service.
Emily Johnson
I had an emergency when my water pipe started leaking and caused a mess in my house. I needed someone to fix it right away. My friend Nillofer recommended SS Water Restoration Company, and I was impressed by their prompt and professional support team. Within 25 minutes, their team arrived at my home and quickly analyzed the root cause of the problem. They fixed it in just 10 minutes. I am delighted with their services and will recommend them to anyone in need.
Need Emergency Assistance?
Our Water Damage Restoration Services Areas